Natural sandstone aggregate production and artificial sandstone aggregate production are commonly used until the crushing equipment is a sade making machine.
The selection equipment is an impact crusher (sand making machine) typical natural sandstone aggregate production process: super-diameter stone treatment -> Screening and grading adjustment -> gravel cleaning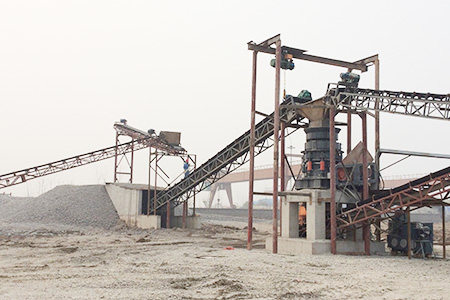 The typical production process of natural sand aggregate is as follows: Super stone treatment-> screening and gradation adjustment-> sand cleaning-> supplementary artificial sand-> return water utilization and sewage treatment;
When the sand content of natural sand and stone is insufficient, or the gradation of natural sand is not good, the excess coarse aggregate can be used to make sand to supplement or adjust the gradation.
Artificial sand and natural sand are generally mixed in a rod mill or spiral grader, and can also be stored separately and used proportionally.
Typical artificial sand aggregate production process: semi-finished product production-> macadam production-> sand production-> backwater utilization and sewage treatment.
The commonly used crushing equipment for natural sand aggregate production and artificial sand aggregate production is cone crusher, and the type selection equipment is impact crusher (sand making machine).
The semi-finished product of artificial aggregate refers to the product obtained from the raw material of block (egg) stone after rough crushing, and the particle size is generally controlled within the allowable feed size of the medium crusher.
According to the terrain conditions and the needs of production, it is appropriate to set up a semi-finished product yard after the coarse crushing equipment or between the secondary rough crushing equipment and the screening, or to set up an adjusting silo with small capacity.
The products from the crushing workshop are transported to the screening house for re-screening and classification, and the excess aggregate is transported again to the cycle path of the crushing workshop processing.
In the design of artificial sand aggregate processing system, it is mainly equipped with cone crusher and sand making machine at the same time, and the two kinds of sand materials are mixed according to a certain proportion to improve the quality of artificial sand.
The import size of the coarse crusher should be adapted to the bucket volume of the mining and loading machinery, and the feed particle size should not be greater than 0.85 times of the inlet width of the crusher.
The type of crusher should be in accordance with the physical properties of the treated stone, the required crushing capacity, the particle size of the broken product and the configuration requirements of the equipment, and the particle shape of impact crusher (sand making machine) and impact crusher should be good.